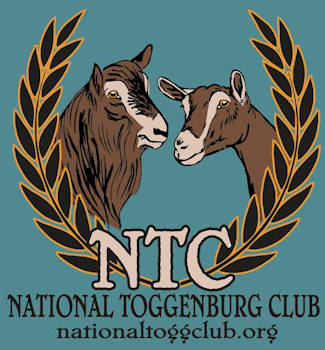 About the National Toggenburg Club
The National Toggenburg Club is a loosely-knit organization of Toggenburg breeders and fanciers devoted to the promotion of our favorite breed of dairy goats. We operate strictly on a volunteer-labor basis to keep our organization running, and we invite you to participate in both the guidance and leadership or our group and the programs that are available to the membership.
The NTC Programs and Services include: TOGG NEWS, All-American, Linear Appraisals and Show Wins; DHI/Bell Ringer Awards; Premier Sire and Dam; and Regional Specialty Shows.
TOGG NEWS is a publication of the National Toggenburg Club (NTC), and is issued quarterly. To join the NTC, send $15 membership dues to: Jennifer Mellett, 422 Mill Rd., North Yarmouth, ME 04097
Dues are due in October of each year. To print a membership app, click here.
Following are the advertising rates:
Business Card Ads: $10 annually
Classified Ads Per issue: $5 first 25 words and $.25 for each additional word.
Breeders Listing: $15 annually
Yearly Display Ad Rages:
1/6 page = $15; 1/3 page = $30 ½ page = $45; 2/3 page = $60
Full page - $90
Contents may be changed for every issue. (Must be submitted in black and white.)
Submit all ads to:
Donna Pearce
204 Davern Road
Peru, New York 12972

Home
About Us
Officers
Specialty Program
All American
Bell Ringer Program
National Show
Raffle
Breeders Listings
ADGA Top Ten
Page last updated on 11/07/2019

Webhosting provided by Khimaira Webhosting Solutions
All information on this website © National Toggenburg Club 2019
Website design © Sunflower Website Design